Custom Orthotics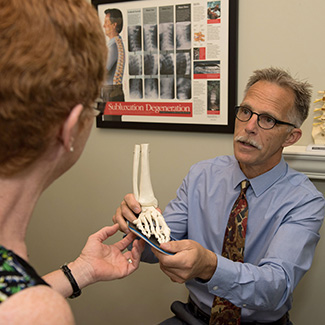 Orthotics are custom molded shoe inserts that are designed to support and comfort the foot by accommodating your foot's unique structure and pathology. We are proud to offer residents of Courtenay and the Comox Valley a unique approach to custom orthotics and foot rehabilitation. As a chiropractor, Dr. Pat is trained to assess whether orthotics are right for you. You many not present with only foot pain, but also pain in the ankle, knee, hip or low back and and a comprehensive look at all these biomechanics are reflected in chiropractic training.
Orthotics can be effective for decreasing pain associated with a variety of conditions, including:
Collapsed arches
Bad posture
Plantar fasciitis
Bunyons
Bursitis
Tendonitis
Foot, ankle, and heel pain
Our Unique Approach to Custom Orthotics and Foot Rehabilitation
We incorporate a progressive and truly dynamic approach to foot health combining a unique model of custom orthotic devices as well as a specific foot and lower leg exercise protocol. Our goal is to address the real underlying cause of foot dysfunction and pain. Rehabilitative orthotics work dynamically as you walk or run. They are designed to challenge target muscle groups in order to retrain your feet.
Call us at (250) 703-0044 for your free assessment today!
"I see Dr. Johnson for regular chiropractic treatments and asked him one day about my sore feet. I have advanced bunions and he suggested I try orthotics to keep my bunions from progressing. He took the time to explain how they worked and what I needed to do to help strengthen my feet. The measuring was done in his office and the completed orthotics were available for me in a week! I followed his instructions and my feet and calf muscles are waking up and getting stronger. I would highly recommend talking to Dr. Pat about how custom orthotics could help you. Marilyn O."
---
Courtenay, B.C. Chiropractor | Ocean Chiropractic