Koren Specific Chiropractic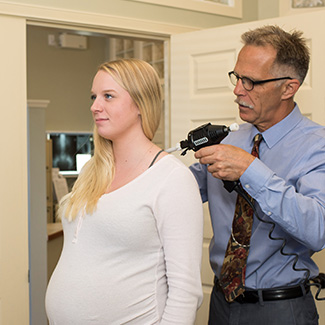 Dr. Johnson practices Koren Specific Technique (KST), a relatively modern health care approach. Chiropractic care can be effective in treating:
Back pain
Neck pain
Arthritis
Sciatica
Vertigo
Sports injuries
Whiplash injuries
Headaches
Disc problems
Our Approach to Chiropractic Care
We begin with a thorough examination. We check the structural system of your body. Areas that can be out of proper alignment may include the skull, your feet and everything in between.
Listening to Your Body
By using an approach similar to biofeedback, we ascertain the exact location of lost structural integrity. Those new to chiropractic are often surprised by the accuracy of this diagnostic system.
Realignment Protocol
With a clearer picture of the source of your problem, we enter the correction phase. We use an FDA approved instrument called the Arthrostim. This device delivers a fast, accurate and low force adjustment, adding energy to misaligned structural components of your spine by tapping 12 "neural frequency vibrations" every second.
Accelerated Healing
Doc, it only hurts when I do this …
Another advantage of KST is that we are able to adjust you while you assume positions that tend to make your problem worse. This might be standing, bending, sitting, chewing (example TMJ), tying your shoes, etc. The versatility in this Chiropractic technique, allows your body to process the energy of the adjustment and begin making corrections. Many people report a feeling of ease as nerve stress is released. Those with chronic, long lasting injuries or health challenges often find that healing takes place in stages or layers.
CONTACT US
To book an appointment, please click here or call us at (250) 703-0044!
I have suffered with a permanent back injury since 1990 and have always been treated by "traditional" Chiropractic methods. Since starting Dr. Johnson's method of passive chiropractic 2 years ago I have maintained a healthy lifestyle and with monthly maintenance I don't have the severe pain cycles that I had with "traditional treatment"  Thanks to  Dr. Johnson and staff for my ongoing care.  Wayne W.
---
Courtenay, B.C. Chiropractor | Ocean Chiropractic